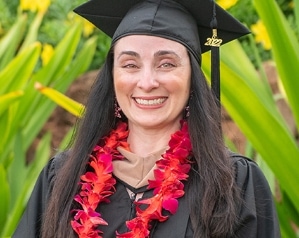 Melissa Rencehausen
M.S. in Professional Accounting, Class of 2022
Manager of Financial Reporting, Universal Studios Hollywood Theme Park
This interview was conducted by Caroline K. Reff, a freelance writer and editor who teaches news and public relations writing at Syracuse University.
A native Californian, Rencehausen has been in the accounting field since earning an undergraduate degree in business administration from Whittier College in 2004. Then, she started working at Universal Studios Hollywood while caring for her and her husband's six-year-old daughter. Rencehausen had always wanted to do more with her interest in accounting and dreamed of becoming a CPA. When she felt the time was right, she began looking into online master's degree programs.
"Whitman had everything that fit—tuition assistance from my employer, live instruction—which was very important to me; and classes in the evenings that worked around my life as a wife and mom. Three big wins! I was sold."
Universal Studios Hollywood offered tuition assistance to a select list of places, one of which was Syracuse University, so Rencehausen applied. The online master's degree in professional accounting's flexibility attracted her because of her multitude of other responsibilities. She says her Whitman School classes, particularly her Accounting Analytics and Business Analytics courses, have given her greater confidence at work. Rencehausen also credits her Project Management class for helping her to stay organized, move initiatives forward and overcome obstacles she encounters in the workplace.
"These are people I would never have had the chance to meet without attending Whitman online. Everyone took the work very seriously, and everyone wanted to do well and succeed, which was so helpful to me. I still text them and keep in touch with classmates, and I also know I can always reach out to any one of my professors if I have questions. Working with other online students has been one of the most rewarding parts of the program. It gave me a new perspective and brought me a lot of joy!"  
While Rencehausen earned her degree online, the connections she developed in the Whitman School program helped her form a new network of friends. The available opportunities to connect with faculty and peers attracted Rencehausen to the program and turned into a highlight of the online master's degree in professional accounting.
"I love my job. It's exactly my world—interacting with people at the park and getting to work in accounting. I always wanted to do more with accounting, and, up until now, I felt like something was unfinished. But, I'm proud to have a big name like Syracuse University in my back pocket and be able to say I've earned my master of science in accounting from the Whitman School."
Rencehausen plans to translate her newly earned master's degree from the Whitman School into a CPA role. She has just accepted a Controller position at her undergrad alma mater, Whittier College, and will start in September. Rencehausen says her M.S. from Syracuse University prepared her for the position, and she's excited to start this new adventure.